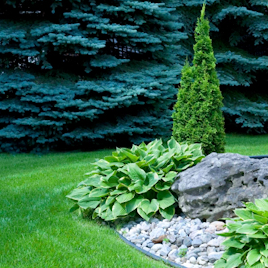 BR Green provides an organic tree and shrub fertilization program that feeds the trees and shrub directly into the root system. We inject a rich mix of nutrients and organic matter into the soil. Our treatment for trees and shrubs improves the soil, providing a nurturing environment for the tree. Once this is performed, the drought stress tolerance and nutrient intake of the plant is increased, leading to healthier trees and shrubs.
Organic Fertilization for Trees and Shrubs
In natural systems, a thriving microbial community digests and breaks down this organic matter to release nutrients back to the soil. These microbial organisms have high spore counts that help balance or tip the environment into a favorable position. Applying compost organic tea is to return the biology back to the soil that should be present. This enables you to grow plants, grass or your favorite flowers with as little effort as possible. Beneficial bacteria and fungi are needed in the soil to make nutrients available to the plants, trees, and shrubs.
By using microbial organisms to fertilize trees and shrubs, you increase it's strength and tolerance to insects and disease. Not only is it a natural fertilizer, it is a long-term preventative that is only obtained with Organic Tree and Shrub Care. The end result is a healthy shrub or tree that is resistant to disease and insects. Before you trees and shrubs are treated, we perform a thorough site inspection to find natural problem areas that may not be properly maintained which can create environments prone to disease and insect infestation.
Tree and Shrub Longevity Benefits
Providing organic fertilization to your trees and shrubs will benefit their overall beauty, health, and longevity. We provide necessary nutrients that are in favor of your landscape's trees and shrubs. Once the environment has been established, the long term effects include cleaner air and water, refreshing shade, increased property value, and rekindling of neighborhood pride. When cared for properly and organically, trees improve quality of our life to neighborhoods, communities, and even globally, for decades to come.
| Season | Solution | Objective |
| --- | --- | --- |
| Early Spring | Deep Root Injections | Organic fertilizer injection into the root zone of all trees and shrubs. Fertilizer provides quick and slow release nutrients that feed the plants throughout the growing season. Injections also include systemic fungal disease and insect protection. |
| Spring | Foliage Horticultural Oil | Visual inspection and foliage application for all trees and shrubs on the property. Horticultural oil is applied to foliage as a disease and insect preventative. |
| Fall | Deep Root Injections | Organic fertilizer injection into the root zone of all trees and shrubs. Fertilizer provides quick and slow release nutrients that feed the plants throughout the growing season. Injections also include systemic fungal disease and insect protection. |
| Winter | Foliage Dormant Oil | Visual inspection and foliage application for all trees and shrubs on the property. Dormant oil is applied to foliage as a disease and insect preventative. |