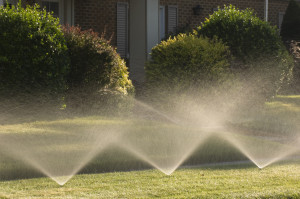 Nationwide, landscape irrigation accounts for 1/3 of all residential use. Older systems without sensors and lack of maintenance account for approximately 1.5 billion gallons of wasted water annually. Upgrading an existing sprinkler system saves water and money while minimizing the environmental impact of residential and commercial landscapes. Most irrigation systems are capable of being retrofitted with new, water efficient parts that provide an immediate impact on water usage and costs. As Texas becomes more concerned with water usage, water conservation has become essential during drought and municipal watering restrictions.
As we are able to water less each year, getting the most out of your allowed watering days is important to plant health. Older, inefficient systems  accounts for the majority of residential water waste in the United States. Upgrading an irrigation system will improve it's efficiency greatly and allow your plants and turf to receive it's optimal water levels with less irrigation. A combination of a rain sensor, soil moisture sensor, smart controllers, and efficient spray nozzles are a great start to a completely efficient system.
Sprinkler Upgrades that Save Water
Smart controller installation
Soil sensor installation
Rain and freeze sensor installation
MP rotator nozzle conversion
Replace old solenoid valves
Additional sprinkler heads
Delete and cap unnecessary sprinkler heads
Drip irrigation conversion in flower beds
Repair broken or leaky pipes
Sprinkler Upgrade Service Area
To schedule an appointment for sprinkler upgrade services, please contact us.
Currently, BR Green offers our sprinkler upgrade services  to the following cities in Texas: Addison TX, Allen TX, Bedford TX, Carrollton TX, Colleyville TX, Coppell TX, Dallas TX, Euless TX, Farmers Branch TX, Flower Mound TX, Frisco TX, Garland TX, Grapevine TX, Highland Village TX, Hurst TX, Irving TX, Las Colinas TX, Lewisville TX, Little Elm TX, McKinney TX, Plano TX, Richardson TX, Sachse TX, Southlake TX, and The Colony TX.