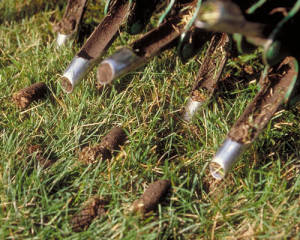 Lawn core aeration is the process of removing soil and root plugs from your lawn with a mechanical aerator. Core aeration service is used to break up compacted soil and thatch layers that naturally accumulate from rain, mowing, outdoor activity, and gravity. Compaction is a problem in lawns because it limits the space available for water retention, air flow, root growth, and nutrients. Like us, our lawns need oxygen to grow and survive. Air flow at the root zone allows the grass to better absorb water and nutrients that promote healthier, thicker grass. Poor soil quality combined with compaction will cause poor grass growth and the eventual deterioration of the lawn.
Lawn aeration is accomplished mechanically with a core aeration machine that punctures the the thatch layer and soil, then pulls cores from the ground to free up space for improved water and air penetration. The aerator will pull cores that are an average of one to four inches deep and spaced a few inches apart. Compaction and soil moisture levels will determine the depth of the cores.
Benefits of Core Aeration
Improved water and air flow through the soil
Denser root and grass growth
Punctures thatch layers
Improved nutrient absorption
Relieves soil compaction
When to Aerate your Lawn
In North Texas, we primarily have warm season grasses such as Bermuda, St. Augustine, and Zoysia. The best time to aerate these grasses is either in the Spring or Fall. Aeration can negatively impact the effect of pre-emergents in the soil, so careful timing is important for weed control effectiveness. Cool season grasses such as Fescue, Bluegrass, and Rye should be aerated in the fall and overseeded for continued growth.
The soil quality of your lawn will determine how often aeration is needed. Yards with a high clay content in the soil and heavy compaction should consider an aeration in both the Spring and Fall. Moderately compacted yards should be aerated once per year in either the Spring or Fall. Healthy yards with little compaction or thatch build up, should aerate once every two years.
Core Aeration Service Area
To request core aeration service, please contact us  for a quote and scheduling availability. Please note that we rely on our customers to provide any details of underground objects that may be damaged during the aeration process. The most common obstacle is drip irrigation near sidewalks and streets.  Cable lines, plumbing, and utilities are typically installed deep enough to avoid damage. If your property has areas that cannot be aerated because of this, they will need to be properly marked before service begins. We will not claim responsibility for any underground damages if they are not disclosed before service.
Currently, BR Green provides lawn core aeration services  to the following cities in Texas: Addison TX, Allen TX, Bedford TX, Carrollton TX, Colleyville TX, Coppell TX, Dallas TX, Euless TX, Farmers Branch TX, Flower Mound TX, Frisco TX, Garland TX, Grapevine TX, Highland Village TX, Hurst TX, Irving TX, Las Colinas TX, Lewisville TX, Little Elm TX, McKinney TX, Plano TX, Richardson TX, Sachse TX, Southlake TX, and The Colony TX.