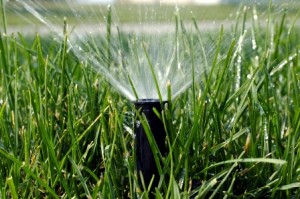 A properly functioning and configured sprinkler system is essential to a healthy lawn, trees, and shrubs. Without a optimal watering program and properly functioning system, the grass and plants will suffer during the Summer months and times of drought. We provide both repair and maintenance services to existing irrigation systems to both residential and commercial customers.
As a licensed irrigation company, we provide the highest level of service and experience necessary to complete the job properly. During a typical service call, our irrigation technicians will troubleshoot the system and locate and breaks or malfunctions. Once the malfunction causes are located, we will provide a complete repair solution to the customer for approval. Basic repairs can typically be completed during a service call, while complex repairs may require separate visits to complete the work.
Common Sprinkler Repairs and Problems
Spring sprinkler check up
Broken sprinkler heads and nozzles
Sunken or tilted heads
Broken PVC or drip lines
Malfunctioning control valves
Locate and repair broken wires
Electric solenoid failure
Adjusting spray patterns
Reprogramming controllers for optimal watering
Installing additional sprinkler heads or drip lines
Removing and capping of redundant heads
Backflow preventer repair/replacement
Controller repair/replacement
Sprinkler Repair Service Area
To schedule an appointment for sprinkler repair services, please contact us.
Currently, BR Green provides sprinkler repair services to the following cities in Texas: Addison TX, Allen TX, Bedford TX, Carrollton TX, Colleyville TX, Coppell TX, Dallas TX, Euless TX, Farmers Branch TX, Flower Mound TX, Frisco TX, Garland TX, Grapevine TX, Highland Village TX, Hurst TX, Irving TX, Las Colinas TX, Lewisville TX, Little Elm TX, McKinney TX, Plano TX, Richardson TX, Sachse TX, Southlake TX, and The Colony TX.