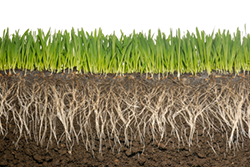 BR Green provides organic lawn care services to home and business owners that are located in Carrollton, Texas who are ready to make the transition to purely organic. By transitioning your yard and landscaping away from chemical based fertilizers, herbicides, and pesticides, you will be helping the planet by reducing the amount of chemical pollutants that end up in our local water systems and atmosphere. By choosing BR Green's purely organic lawn care program, your lawn will begin developing a thick root system that feeds lush grass and is much more tolerant to drought. Whether your property's turf is chemically fed and looking good or needs major improvement, an organic lawn care program is for you. Going green with organic lawn services requires no extra commitment for you other than ensuring chemicals are not allowed in your soil again. Switching to our organic lawn care program is a sustainable alternative that is scientifically proven to provide long term effectiveness that does not pollute the atmosphere and local water systems. Contact us today to schedule a free soil analysis and yard inspection.
Lawn Care Service in Carrollton, TX
About Carrollton Texas
Carrollton, Texas is a city located in the northeastern part of the state. Carrollton, Texas has several zip codes including 75006, 75007, 75008, and 75010. The city is considered a suburb of Dallas, Texas and parts of the city are located within Denton County, Dallas County, and Collin County. Carrollton, Texas has a relatively booming economy with several companies established within the city such as FASTSIGNS International Incorporated, Jokari, and the Sandy Lake Amusement Park. The most lucrative and affluent company within Carrollton, Texas is Halliburton Energy, which employs over 1,300 people. The Carrollton Halliburton location is considered the North American headquarters for the Easywell company.
Carrollton, Texas was officially established and incorporated in 1913, but had a rich settlement history before then. William and Mary Larner were the first settlers of the area in 1842. Two years later, the Perry family founded a successful mill that was later called Trinity Mills. By the late 1880s, the Carrollton, Texas area included flour mills, a cotton gin, churches, and schools. At that time, the railroads were also making their way toward Carrollton through the nearby Denton train station. This allowed for the area to be filled with people while new economy was brought in. After Carrollton was established, the general population and economic growth of the city plateaued until World War II, which caused the city's population and industry to grow exponentially.
As of 2010, Carrollton, Texas had a population of 119,097. The Carrollton-Farmers Branch Independent School District serves the Carrollton, Texas population with the Jerry Junkins Elementary School, the Walker Middle School, and the W. T. White High School. Carrollton, Texas has also played home to a number of famous residents including Noah Ringer, Deron Williams, Melissa Rycroft, and Robert "Vanilla Ice" Van Winkle. The Carrollton, Texas population is largely Caucasian with the Asian and African American populations also having a strong percentage.