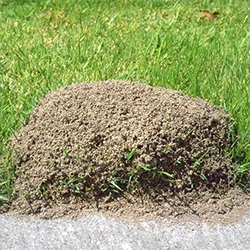 Our concentrated foliar application is a minimum risk pesticide that is composed of botanical extracts and essential oils that have been proven to eliminate and repel  common residential pests. Our Organic Pest Control treatment is USDA National Organic Program Compliant and is Earth, Pet, and People friendly.
Turf and Grass Pest Control
Control Ants, Armyworms, Billbugs, Chinch Bugs, Chiggers, Crickets, Cutworms, Earwigs, Fleas, Grasshoppers, Hyperodes Weevils (adults), Japanese Beetles (adults), Mole Crickets, Mosquitoes, Sod Webworms , and Ticks.
House Perimeter Pest Control
Control Aphids, Ants, Bees, Centipedes, Cockroaches, Crickets, Darkling Beetles, Firebrats, Fleas, Ground Beetles, Fowl Mites, Mites, Millipedes, Pillbugs, Silverfish, Sowbugs, Spiders, Ticks & Wasps.
Tree and Shrub Pest Control
Wood Borers leave an identifiable trace of wood shavings on the outside of tree bark; damage can be noticed by dark or discolored dead areas with sap and sawdust-like borings clinging to the bark or littering the ground. Since borers can successfully attack only trees that are injured or stressed, it is extremely important to maintain correct watering. Unfortunately, little can be done for the borer larvae inside the tree except to keep fertilizing (feeding) the tree. After the larvae emerge, you can treat the tree  to kill any adults and the eggs that lay outside on the bark. Controls Mites, Scale Insects, Mealybugs, Aphids, Lace Bugs, Whiteflies, Tent Caterpillars, Bagworms & Beetles
White Grub and Flea Control
Exposure to our formulation immediately triggers the erosion of the exoskeleton of insect eggs and larvae, which results in their dehydration. All insects breathe through their bodies; therefore, or product is absorbed directly into the body affecting the insect's neurological or biological systems, causing paralysis, confusion, death or flight.